Hi there again
I hope you are all enjoying some warmer weather and getting an hour or so in the garden in the evenings; the longer days definitely help.
This week we sneaked a look under the tarp covering our compost pile and we were delighted with what we saw.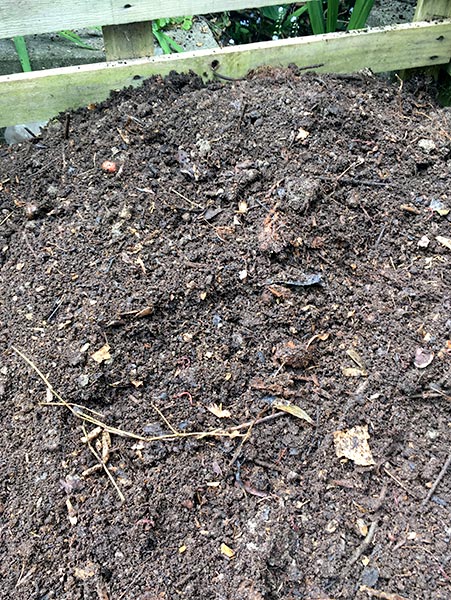 Rich & black EM compost, ready to go
Not only did we find rich black compost but it was full of the  gardener's best friends: worms! Wonderful, hard-working worms (a gardeners best friend). Worms love Bokashi and we always ensure that we tip a bucket or two into a hole in the middle of our compost pile to encourage these miracle soil workers.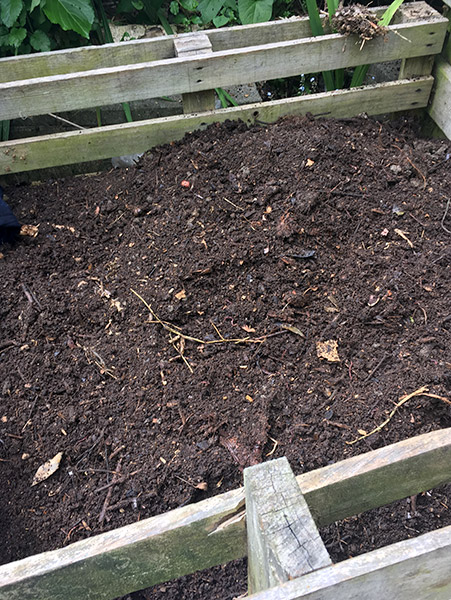 'Worm friendly' compost pile made from old pallets
Not only do the worms love Bokashi but the EM helps to speed up the process in your compost heap. (Do remember though that the fermentation process is anaerobic, so make sure you dig a hole and cover it over again with a decent layer of your pile).
Who would have thought worms could be so exciting and satisfying? I guess that's the magic of gardening, it opens up a whole new world.
We've been planting too and following on from my espalier musings last week, I thought I would show you a pic of our pea trainer.

The Gardens a great place to re-cycle, hence our Pea Vege-Gate
Garden centres are full of great ideas for training your climbing veggies, but you can use just about anything. We have a few old gates that we rotate around the garden: they add a bit of interest and they work a treat. Don't hesitate to scavenge recycle centres to look for other ideas to add a bit of your style to your garden.
And finally with BBQ season well upon us, I have added a recipe for raw broccoli salad (as promised). The dressing is actually a recipe I found for a dip, so you could use any leftovers for a broccoli tempura dip if you like. I hope you enjoy it and I hope you all have a fantastic week!
Click here for a PDF version of this healthy & fantastic summer-time recipe.
Carla's Raw Broccoli Salad
Dressing:
1 tbsp Dried Dill
2 tbsp Dried Onion (I used a combo of Dried and fresh chives instead)
2 tsp Dried Parsley
1 tsp Garlic Salt
1 250ml tub of Sour Cream
1 Lime freshly squeezed.
Mix all the ingredients together.
Salad:
You can pretty much add anything you want and it is completely up to you if you want to blanch the broccoli or not.
2 x Broccoli Heads chopped into Florets
Handful of fresh chopped Silver Beet Leaves
Half a cubed Cucumber
2 x Fresh Tomatoes (de-seeded)
100g of Feta Cheese (I used Goats)
Small handful of chopped Nuts (any)
Blanch the broccoli florets for 30 seconds and set aside to cool while you prepare all the other ingredients. Then add all the ingredients together. You can either drizzle the dressing or you can serve it on the side, your call.
Carla
Bokashi Boost Queen, Worm Lover, Re-cycler & Broccoli Recipe Sharer